10 September 2023
The day began at 11 am with the opening of an exhibition by the umKunst group. The main ceremony in the courtyard began at 12 noon. This year the day was again a great success. Although it was very hot, we were able to welcome 700 cheerful visitors to our campus. Due to the weather the indoor activities turned out to be more popular this year.
The guests were ceremoniously welcomed by member of the German federal parliament Stefan Zierke and district administrator Karina Dörk. Entertainment was provided by Universal Druckluft Orchestra and a walking saxophone concert with Dirk Engelhardt as well as concerts by music school students from the Uckermark County Music School.
A particular highlight was a reading by a former Joachimsthales Gymnasium pupil on key events from  350 to 400 years of the school's history. We also presented our reworked master plan together with the cornerstones of the est framework school concept. Children had fun with giant soap bubbles. There were also several themed guided tours of the grounds. Photos of the est could be posted at #Europaintemplin.
Programme flyer for the Open Monuments Day (in German) » (pdf)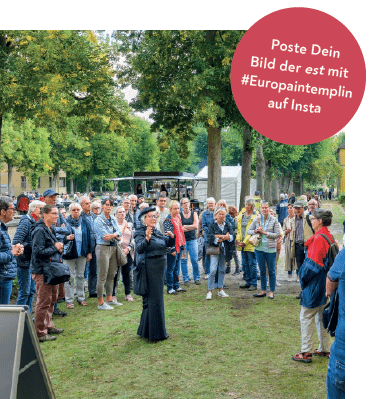 09/10 September 2023
The Lehmann Garden opens its gates. Dr. Wilhelm Gerhardt and his team welcome you to botanical and historical tours of the grounds. Entrance is free of charge. 11 am to 3 pm.
Uckermärkische Music Weeks
5 August 2023
The Uckermärkische Music Weeks were opened in the school assembly hall at 7 pm.